A Priest's Journey into Abandonment to Divine Providence, Part 1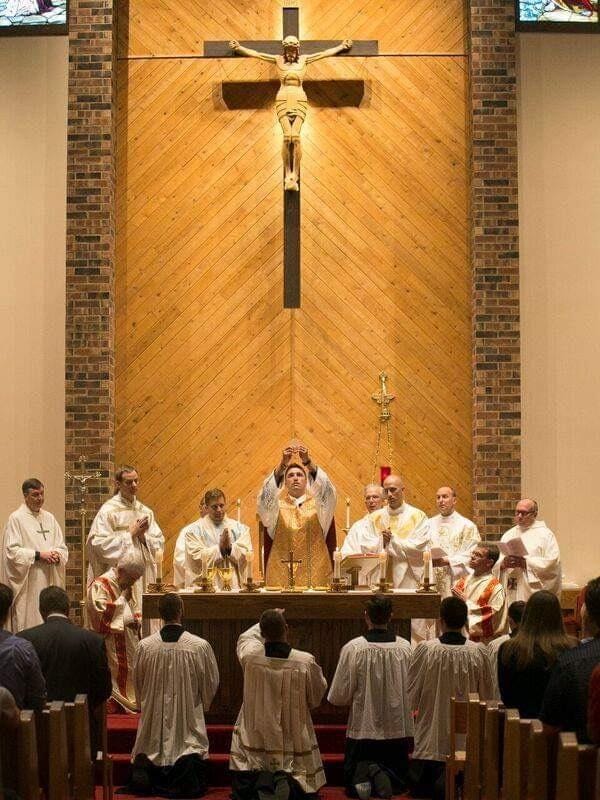 Father Zach Weber elevates the Consecrated Host during a Mass before the pandemic
Story by Carlos Briceño
Around a decade ago, when he was in his 20s, Zach Weber embarked on a journey of surrender, during which he has learned to develop a trust in God's will and how to abandon himself to God's Divine Providence.
This is his story.
Like many stories, it begins with what at first might be perceived as failure.
After Zach felt the call to the priesthood, after attending a men's conference when he was 20, he started reading about the life of Blessed Solanus Casey. A major element of Solanus' walk down the path of holiness was seeking to live in the present moment. As Solanus put it: "We must be faithful to the present moment, or we will frustrate the plan of God for our lives."
Zach admired Solanus' trust in God. He admired the way Solanus figured out how to abandon himself to God's providence and thank Him ahead of time for whatever God's will was going to allow.
"Have faith in God," Solanus would say. "Shake off excessive worry, and thank God ahead of time."
Zach and Solanus also had something in common: failure.
They both applied to St. Francis High School Seminary, the minor seminary of the Archdiocese of Milwaukee, and both were turned away.
Solanus was led to Detroit, where he joined a religious order, the Friars Minor Capuchin, and the rest, including his beatification in 2017, is history.
Zach's rejection from entering the seminary at the Archdiocese of Milwaukee led him to take his first real steps on the road to abandoning himself to Divine Providence.
"What I would do," Zach said, "was to take my keys and my wallet and whatever was in my pockets and put them in front of the tabernacle and say, " 'God, take care of all of my worries, all of my fears. If it's not Yours, I don't want it, either.' If God didn't want me to be a priest, I didn't want to be a priest, either. I did these physical actions to say, 'God, You take care of it, which is another way of saying, 'Let your will be done.' "
God's will led Zach to the Diocese of Green Bay, where, he was accepted as a seminarian in 2011. By now, his education in the art of abandoning himself to Divine Providence accelerated, mainly through being a part of an apostolate during the summers called Catholic Youth Expeditions, where he met Father Quinn Mann and a nun called Mother Mary Catherine, who was forming a religious community called Missionaries of the Word at the time.
"She introduced me to abandonment to Divine Providence," Zach said. "To really trust in God's care, a lot of it through St. Joseph's intercession, and introducing me to the Marian aspect of Divine Providence. What does it really mean when Mary says, 'Let it be done according to Your will?' "
---
A quick status report of what Zach was like at the time:
He was way too self-reliant. He worried too much about other people's opinions. He was vain. He traces a lot of his brokenness to what he went through in grade school and middle school. Those were rough years, involving a lot of pain and worry about what others thought of him. He was often misunderstood. He had good intentions, but was punished for them, which hurt him down to his soul, he said. Those experiences mangled his understanding of how to live in community. He found it difficult to rely on God.
In short, trusting did not come easily to him, which means it's not easy to fully abandon yourself to anyone, let alone God, when you can't, and don't, know how to trust.
---
Those summers working at Catholic Youth Expeditions became a huge blessing for Zach during his formation as a seminarian because he would have deep conversations with Mother Mary Catherine and Father Quinn Mann, and they helped him to develop an understanding of what it means to trust – and surrender to God.  
He remembers one particular conversation with Mother Mary Catherine. He told her he was struggling with being wounded by the curses of self-reliance and vanity.
"She said words that still ring in my heart today: 'Zach, it doesn't really matter what I think, or what Father Quinn thinks, or what your vocation director thinks, or what Bishop [David] Ricken [the bishop of the Diocese of Green Bay] thinks, or what the pope thinks; it only matters what God thinks," Zach said. "That was a huge puzzle piece to help me understand what abandonment to Divine Providence is."
If he was concerned about what others thought, he was not focused on God or His will. "All is vanity," as the Bible verse from Ecclesiastes says.
This obsessive concern with other people's opinions amounted to projecting into the future, what others might say once he said or did something.  
Father Quinn, the founder of Catholic Youth Expeditions, also said something that stuck with him.
"I am going to challenge you not to say the words, 'me,' 'I,' 'my,' 'mine,' or 'myself' the whole summer," Zach recalls Father Quinn telling him. "It brought up a lot of my own brokenness, about how the Lord wanted to provide healing and learn how to trust others and trust myself again."
By challenging him, Father Quinn was basically telling him something that Zach felt the Lord was trying to get him to understand: "Aren't you sick and tired of being sick and tired of doing it your way? Are you finally ready to do it My way?"
Zach's answer was yes.
Father Zach Weber's journey to abandoning himself to Divine Providence will be continued in part 2, which will be shared next week.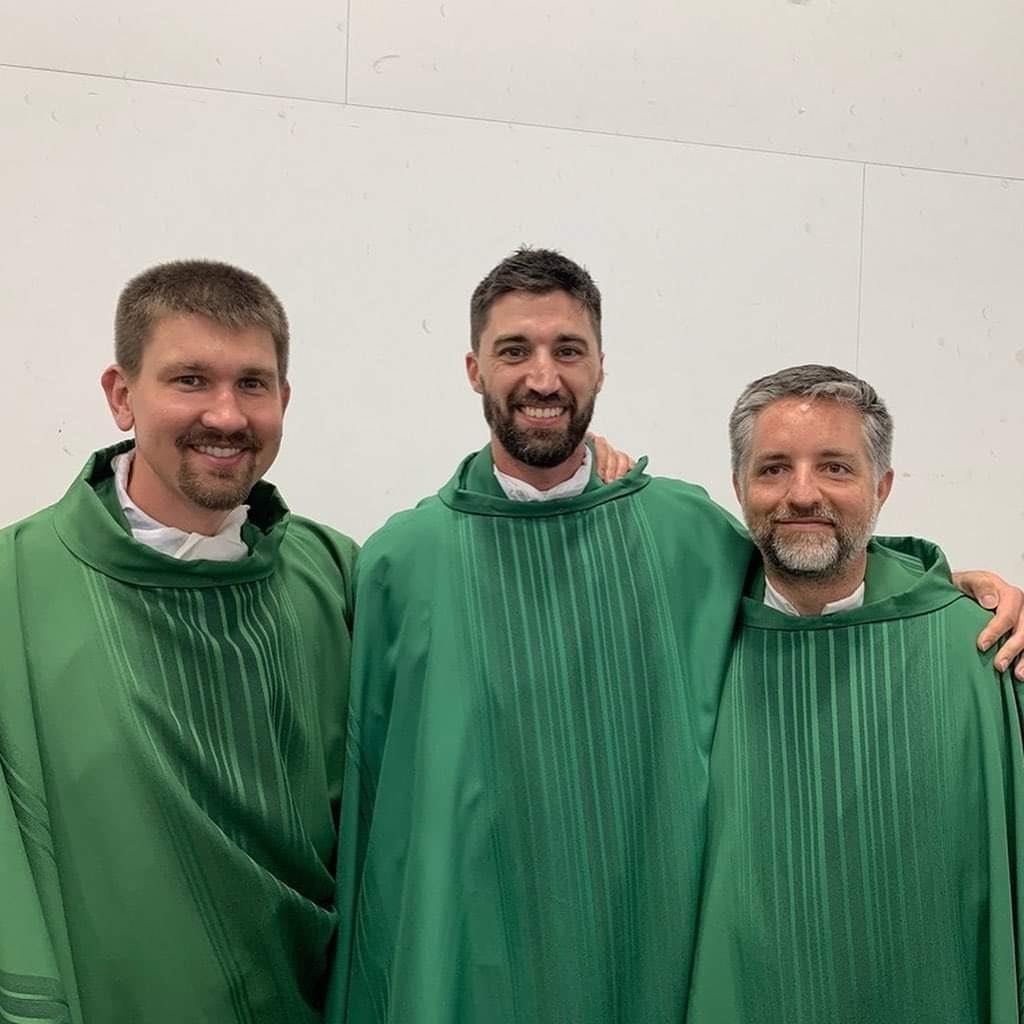 From left to right: Father Mark Mleziva vocations director for the Diocese of Green Bay; Father Zach Weber; and Father Mike Brennan, vocations director for the Norbertines