Burn Your Ships, Part 1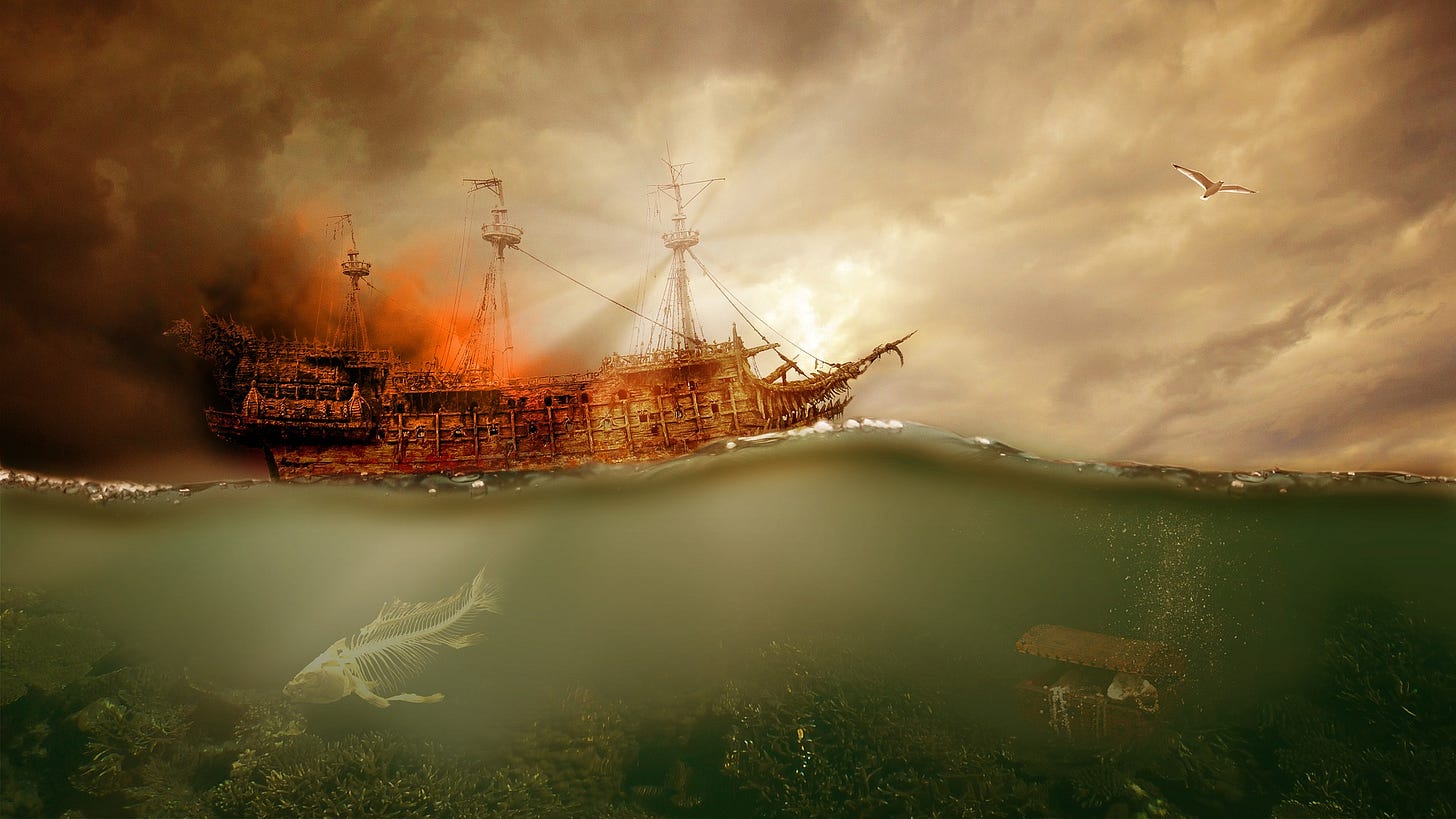 By Carlos Briceño
After much trial and error, after realizing that my stubborn and egocentric pride was not leading to holiness — in short, after realizing that most of my life was spent dazed and bamboozled by the lies and distractions of the world, leading me to repeatedly bang my head against the wall with the same old sins, all of which resulted in an unfocused and lukewarm spiritual life — I made a conscious decision to burn my ships.
To understand what that phrase means, I will share a brief history lesson. In 1519, driven by what historians described as "gold, glory and the Gospel," Captain Hernán Cortés and approximately five hundred fellow Spaniards sailed to Veracruz, Mexico. Their mission: to claim land and riches for Spain and to convert the native Aztecs to Catholicism.
To overcome any fears that the Spanish forces had in dealing with the Aztecs, who were fond of offering human sacrifices to the gods, legend has it that Cortés ordered the ships to be set on fire. That kind of damage meant that there was no way any of his men could sail away when the going got tough.
In other words, no security net meant no retreat, no surrender.
(That's the legend. The reality is that Cortés more-than-likely destroyed the ships by sinking them. For the purposes of this post, I'm sticking with the legend because "burn your ships" is much more dramatic. And dramatic works in the context of what I'm sharing.)
So what does burning my ships mean in the context of changing my life from the ways of the world to the Way, the Truth, and the Life? The simple answer I can share is from Jeremiah 29:13: "You will seek the Lord when you seek Him with your whole heart."
To seek someone with your whole heart is a profound notion and requires a tremendous effort. It involves figuring out how to spend more time with that person. It means being open to listening more. Seeing more. Trusting more. Loving more.
But there's an obstacle. A big one.
The world.
---
There's a tremendous spiritual battle going on. The world, fueled by the devil's influence, constantly intrudes into our lives. It jabs away at your levels of trust in God. It influences the amount of time you could be spending with Him in prayer by distracting or deflecting your attention away from Him. And it causes you to doubt God's love and mercy — or even His existence.
Spiritual warfare also intersects with the turbulent and paradoxical flip-floppiness of our emotions and what is referred to as the human condition. We all deal with stress; anxiety; uneasiness; fears; denial; weariness; sloth; anger; repetitive sins; the lies we believe and repeat that keeps us frozen in our woundedness — all of which act to block any and most of our efforts to give and receive love from the One who is Love.
The end result: a titanic struggle within you and around you to thwart your heart from fully seeking Him.
What tipped me to overcome all that was the realization that there was only one way to live — and that was to die to myself, my will, and my self-centered self-sufficiency. I needed to detach myself from all that blocked me from fully seeking the Lord.
---
Here's what it looks like when you don't detach. St. John of the Cross offers the following analogy: "As long as this attachment [to the world, to pride, to our wills] remains, it is impossible to make progress in perfection. … It makes little difference whether a bird is tied by a thin thread or by a cord. Even if it is tied by a thread, the bird will be held bound…it will be impeded from flying as long as it does not break the thread."
I needed to break the thread, and I needed to do it without reserve, with laser-focused energy, love, and commitment and with a heart full of humility and gratitude.
I sought freedom, and that could only come about by chipping away and eliminating all that stood against me in seeking Him with my whole heart. And the first place to start was with my pride.
Here's why:
"Pride makes a man envious and jealous, peevish and passionate, contentious and disputatious," wrote Archbishop William Ullathorne in his book Groundwork of the Christian Virtues. "Easily provoked, he is hard to reconcile, especially when his self-esteem is touched; for he is suspicious of the kindliest advances, fancying a design to win his submission. He has a large appetite for flattery, but a queasy stomach for friendly advice, which he regards as dictation.
"He is rude and ungenial, self-opinionated and meddling, ambitious and aspiring. As he has no faults, or does not see them, which appears to him the same, his troubles arise from the ill-judged conduct of other persons, and especially of his friends. He is keen, however, in sighting another's faults, or in imagining them where they do not appear. He is troublesome and ungovernable, resolute against reason, and stiff against wise counsel.
"Contemptuous to his inferiors, he is critical of his betters, and disobedient to his superiors; unfit to govern, he is unwilling to be governed. With all his show and pretension, he is hollow within; with all his outward bravery, the moral courage inside of him is low; and although artificial manners may cloak much that is here described, they take nothing of it away from the inclinations of the heart."
---
As you can see, pride is not a pretty sight. To become humble, I had to burn the ship called pride. In order to do that, and in order to burn other ships that held me back from God, I needed to develop a closer relationship with Him through making more time for prayer.
Unlike Cortes' men, I had a safety net. God's loving and merciful Divine Providence. And, unlike his men, I could surrender. And in that surrender, I found freedom
That surrender is found in a prayer by Blessed Charles de Foucauld. It's what inspired me to burn my ships. It's a prayer that I recite daily and try to live out each moment. It focuses me to live in the present moment. Its sentiments allow me to praise God and be aware of His Divine Providence each moment that I am awake. It reminds me to be humble. To give thanks. It shows me that the key to burning my ships is to rest in God's eternal and everlasting love and mercy by abandoning myself to Him.
Fully. Unconditionally. Singlemindedly.
---
Here's the prayer, in bold, with my commentary in italics:
Father,
I abandon myself to You.
According to the Online Etymology Dictionary, the word "abandon" "carries a sense" of putting " '(something) under someone else's control.' " When humans are in control, our disordered selves constantly burst out in unhealthy ways. Watch the news, and you'll understand what I mean. Being under God's control means being open to His graces, and God's graces are as beautiful as a field full of fragrant flowers.
Do with me whatever You please.
God allows good and bad to happen. Each moment carves a path ahead of us. The good that happens leads to heaven. The bad that happens also leads to heaven. Accepting the good and the bad with peace and praise means we realize we are not in control and leads to an openness to all of God's actions and will with the faith that it will all lead to heaven.
Whatever you do with me, I thank You.
"Thank" stems from the Latin tongēre. Tong means "think," or remember what you've done for me. When I see a gorgeous sunset, or I think about how wonderful my wife and daughter are, I know all those blessings come from God, because He created them. In remembering what He's done for me, I am frequently giving thanks.
G.K. Chesterton, the English writer and philosopher, said it more poetically: "I would maintain that thanks are the highest form of thought, and that gratitude is happiness doubled by wonder."
I am ready for anything; I accept everything.
When your heart is open for all the good and the bad/sad that occurs in life, and you accept it all peacefully, you are developing a sense of detachment. When that happens, you realize and remember that serenity and freedom come to those who are content with whatever God has put in front of you.
Here is how Father Jean-Pierre de Caussade describes accepting anything and everything in his classic book called Abandonment to Divine Providence: 
"[People who accept everything] make use of things, not that they have any confidence in them, but because they are submissive to God's will, which they find active in the most unlikely situations. … Nor do they find anything tedious in life or anything to complain about, for they have a settled assurance that they are following the most perfect way."
He continued: "They enjoy supreme bliss because they see the fullness of God's power being exercised in whatever conditions of body or soul they find themselves, in whatever happens to them internally or externally and in whatever befalls them at each and every moment. Whatever the world offers them is nothing. They judge all things by God's standards. If [God] takes from them their powers of thought and speech, their books, their food, their friends, their health, and even life itself, it means no more to them than if He did the exact opposite…. They do not reason about what He does, but approve of it. They know it is never without significance."
The Jesuits refer to this mindset as holy indifference. All that matters is what God wants. Peace follows, as a result.
May Your will be done in me and in all Your creation. I don't desire anything else.
Letting go of your self-centeredness and growing in humility will lead to understanding that God is smarter, more imaginative, more loving and more merciful than any human, and, as a result, what He wants is more important than what we want. This leads to freedom. Try it. You'll understand what I mean.
I entrust my soul into your hands. I give it to You, my God, with all the love of my heart because I love You.
Entrusting implies trusting. Our lack of trust in the Garden of Eden led to us turning from being God-centered to self-centered. As a result, we severed our inherent holiness, darkened our innocence, and weakened our wills.
The way to repair the relationship involves a change of heart and mind to assimilate the values of the Gospel, and that repentance springs from our hearts being restless until we rest in His love again. "To love is to be transformed into what we love," St. John of the Cross once wrote. "To love God is therefore to be transformed into God."
I need to give myself and place myself into Your hands, without holding anything back. With infinite trust. Because you are my Father. Amen.
The concluding lines of the prayer mean all roads lead to God. We come from Him, and we need to go back to Him. The only way to Him is to eliminate all the noise in our lives that stop us from seeking Him.
Dietrich von Hildebrand, a brilliant Catholic philosopher and writer, once shared what's required when we will ourselves to not hold back from seeking Him:
"Readiness to change, taken in this sense, is the first prerequisite for the transformation in Christ. But, in addition thereto, more is needed: a glowing desire to become a new man in Christ; a passionate will to give oneself over to Christ. And this, again, presupposes a state of fluidity, as it were: that we should be like soft wax, ready to receive the imprint of the features of Christ.
"We must be determined not to entrench ourselves in our nature, not to maintain or assert ourselves, and above all, not to set up beforehand — however unconsciously — a framework of limiting or qualifying factors for the pervasive and re-creative light of Christ. Rather we must be filled with an unquenchable thirst for regeneration in all things. We must fully experience the bliss of flying into Christ's arms, who will transform us by His light beyond any measure we might ourselves intend. We must say as did St. Paul on the road to Damascus; 'Lord, what wilt Thou have me to do?' "
---
That's the question I posed to myself a couple of years ago: Lord, what do You want me to do?
His reply: Burn your ships. That's my advice to you, dear reader. Burn your ships.
Try it.
I promise you the freedom, love, mercy and healing you gain will be worth the effort.
---
In my next post, which you can check out here, I will share some practical tips in how you can burn your ships. To read more about surrendering to God in the present moment, go to https://thesotpm.substack.com/